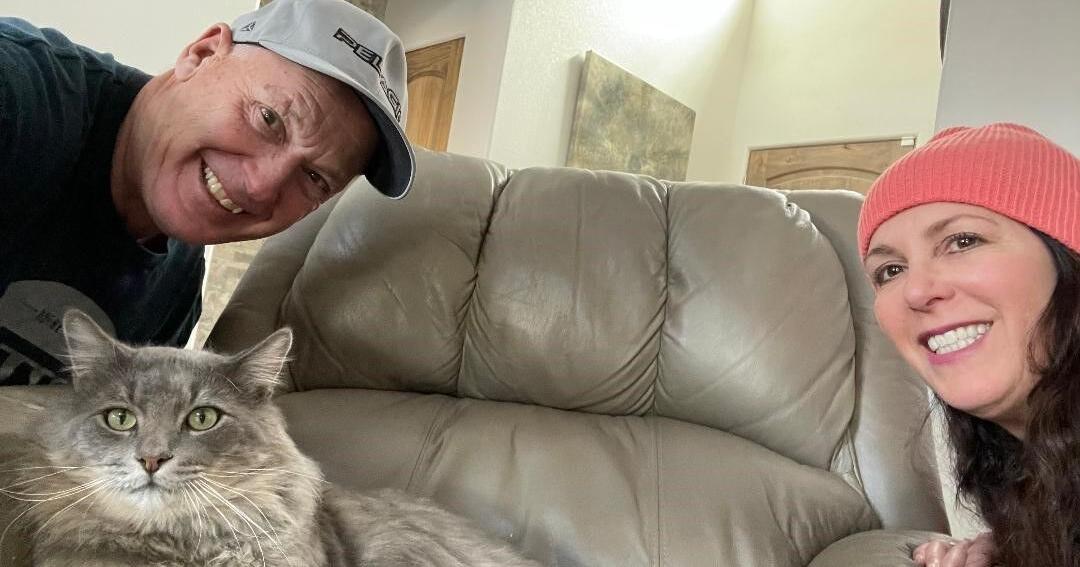 From rescuing the streets of southern New Mexico to having a new home in Santa Fe, Grayson has come a long way.
Grayson, an almost 4-year-old gray Turkish Angora, was found lying in a gutter with an infected abscess. He spent several weeks recovering at a nearby veterinary clinic before being transferred to Felines & Friends. Upon arrival, it was clear to the staff that this loving and social feline would need to retrieve in a home. Around the same time, Sharon Redsun and Jerome Coffidis from Santa Fe decided they wanted to welcome a cat.
The couple's cat had died suddenly in June, and after a few months of mourning, the couple decided to place him in foster care and heard about Grayson.
"We immediately fell in love with Grayson and knew we were going to make him our new family member," Redsun said.
The couple adopted Grayson in early November and immediately adjusted to their new home. Grayson is in charge of the house and even has his favorite chair – formerly Coffidis' favorite chair. Grayson loves to be cuddled and throws himself on his back to rub his stomach.
The couple agree: "Grayson is a happy addition to our house. He is a very sweet cat and he immediately warmed up for us.
Redsun added, "I think the adult cats and dogs who have been rescued are so grateful to have a loving, secure home that they truly appreciate their adopters."
Santa Fe Animal Shelter and Humane Society: Meatloaf is a dapper 2 year old mixed breed dog that weighs 77 pounds. Meatloaf is a spirited and exuberant guy who has a lot of energy and is always ready to go on a new adventure. He knows how to sit and turn to please himself. Meatloaf is picky about other dogs.
Kato is a 12-pound, 9-year-old, short-haired, spicy domestic male cat. Kato is an independent and confident cat who also enjoys affection. Kato enjoys playing with long sticks and feather strings.
These and other animals are available for adoption at the Animal Shelter, 100 Caja del Rio Road.
Adoption hours are 11 a.m. to 6 p.m. daily, but the shelter will be closed on Thanksgiving Day. Dial 505-983-4309, ext. 1610, or visit SFHumaneSociety.org.
Española Humane: Nacho is a 6 month old orange tabby cat with long, luxurious hair. He is neutered, vaccinated and chipped.
Ronnie is 2 years old, weighs 41 pounds, and is a part cattle dog. He is shy but gets the trust of other dogs.
Felines and friends: Amore and Atreu, four months old, are related brothers. The Maine Coon tabby Amore mix, with its oversized legs and ear tufts, will most likely stay a little guy. Gray tabby Atreu is a bit shy but very gentle and cuddly with those he knows.
Lilac Point Lulu is a 6 year old Siamese, a gorgeous and outgoing girl with blue eyes. She really loves the attention. She gets along with some male cats, but would probably prefer to be a single pet. Lulu can be seen by appointment.
Rescue of dew paws: Blue is a beautiful 11 ​​week old silver tabby. Blue also has 2 brothers and a sister who are looking for a home. Call 505-412-9096 or visit [email protected]
The horse shelter: Kat is a beautiful 11 ​​year old bay mare. She is very shy and is looking for a partner to build trust and continue basic training. Kay is available as an unmounted or companion horse. Kat and many other horses are available for adoption at the Horse Shelter.