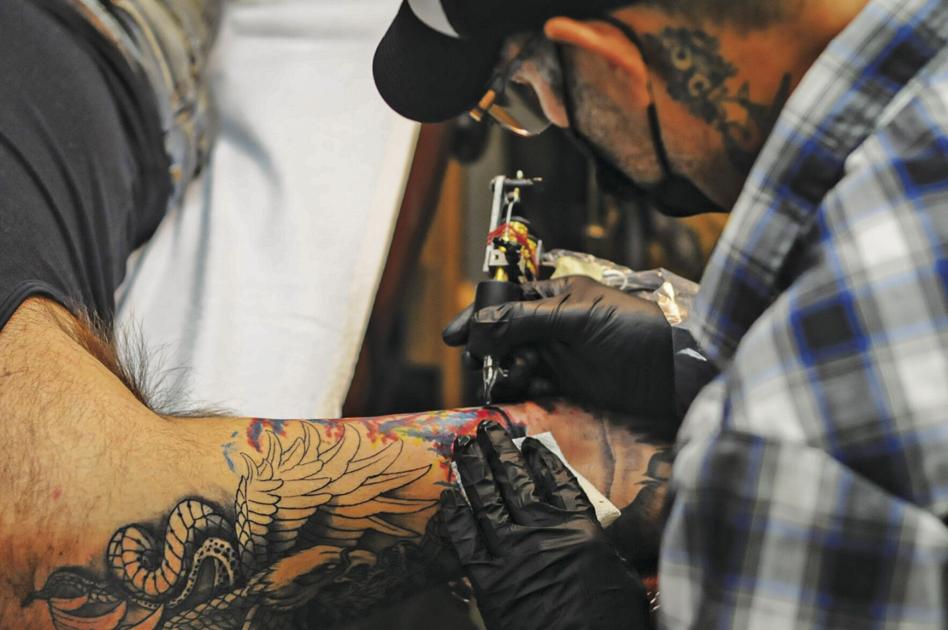 Nick takes care of the business side of Alley Cat. He said he lets his tattoo artists use their creativity to the highest possible level – they are the ones who understand the tools they use and the basics of tattooing, he said. However, Nick and all of his tattoo artists are familiar with tattooing and the origins of all of their designs, he said, due to their respect for the culture. He said that Alley Cat's current team are the best they have ever been and that the only difficulties the company could possibly face would be if one of the team members decides to leave.
"We are in a culturally sensitive profession," said Nick, "and that culture sustains us."
In their free time, Nick said, most of his tattoo artists engage in painting and drawing to help them elevate their game and practice whatever style and role they want to maintain in their discipline. This practice, Nick said, helps to diversify the type of tattoos the artist is capable of doing.
Alley Cat emphasizes originality and discourages copying art that someone else already has on their body. Tattoos are unique to the person they embody, he said.
"Some people will ask us what the difference is between getting a tattoo from our provided sheets and getting one from a photo they show us they have already found on the internet on someone's body." , Nick said. "Sheets are made for everyone, the photo of the tattoo on someone's body was made for that person."
Tim Sorensen, an international affairs specialist and a German double major from Ashburn, Va., Had a Japanese dragon tattoo at Alley Cat in June. Before he left, Sorensen said, he scrolled down Alley Cat's Instagram to check out their work and ended up seeing designs that matched the tattoo he wanted to get.
After consulting with his tattoo artist, Trevor Smith, he helped bring Sorensen's tattoo to life. Sorensen chose a Japanese dragon to make his leg match the Japanese-inspired tiger he once had on his arm. Trevor's own additions and layouts helped make the finished product something Sorensen said he "was incredibly proud of." It was essential to split the appointment into two sessions, Sorensen said, as the total time to complete this particular piece was close to nine hours.
"Being able to see an artist like Trevor do his job was amazing, and the compliments I get only made me love him even more," Sorensen said. "I always tell them, 'Go see Trevor.' "
Alley Cat has five tattoo artists who make appointments and show up on Fridays, leaving a line around the store and in the parking lot with impatient customers expecting to receive a new ink or body piercing. Usually, these artists are full, so the Friday dates fill up quickly. Each artist typically serves four to five clients per day, but this will vary depending on the size, type and complexity of the tattoo and whether there will be multiple sessions. On the other hand, piercings don't take as long as tattooing, so the wait for those dates isn't as long.
Abigail Lambert, a fifth-year biotech student from Richmond, Va., Went to Alley Cat about a month ago to get her daith pierced. The daith piercing passes through the innermost cartilage fold of the ear and is performed using a straight, hollow needle.
"I've never been to a tattoo parlor to get a piercing; in the past I have only been to Piercing Pagoda or the mall locations, "Lambert said. "My piercer [at Alley Cat] made me feel very comfortable being a beginner.
Nick said students are typical clients of the piercing, while clients with tattoos range from locals and college students to 18-year-olds who come to celebrate. He tours everyone's post every day to see what they're working on and to talk to clients – he wants to be an ambassador of tattoo culture, he said.
"I want people to understand that this is a viable art form that is also a unique trait," Nick said. "We have tried to introduce tattoo culture to this community and as a result it has been well received and a lot of people are getting bigger and bigger. "
Nick stays busy outside Alley Cat. His role as a father of two young children and his involvement with his family are important to him, he said, as well as following "No Lies Just BS," a storytelling podcast he hosts and which he says , has occupied him for the past five years. He currently has 263 episodes and has posted regularly every week since its launch in October 2016. He has said he enjoys inviting people he meets to ask them about their lives and learn their stories, ranging from tattoo artists to local figures – the most recent being his seventh grade teacher.
One notable guest was an "unforgettable" 70-year-old woman named Mary Jane, said Nick, who walked into Alley Cat to ask her for a tattoo on her ear. Usually, Nick said, he discouraged tattoos in this area because of its likelihood of spreading with age, but this woman was different. Nick Swartz said she also had one of her breasts removed and decided to have a hawk tattoo in memory of her late husband as a hawk started visiting her after his death.
"You always meet people you value outside of your job or what you do," Nick Swartz said. "Mary Jane started telling me this rich story about her life, and we've started to invite her out for shopping ever since."
Alley Cat's 20th anniversary took place on September 1 – a milestone that Nick said he was proud of. The crew celebrated by closing the store for three days. Mary Jane was one of the guests at the event, along with around 120 other tattoo artists from across the country.
"I'm grateful that I can now take care of my family in a way that makes me happy coming on welfare," said Nick. "I don't know what I would have done otherwise, but I don't think I would have been so happy."
After 20 years, Nick has no plans to retire and the spark that ignited in him at a young age is still going strong.
"Tattooing is a culture that's deeper than what's hot right now," Nick said. "The richness of that is what keeps me really excited about tattoos to this day."
Contact Christina Butchko at [email protected] To learn more about the culture, arts and lifestyle of the JMU and Harrisonburg communities, follow the culture office on Twitter and Instagram @Breeze_Culture.