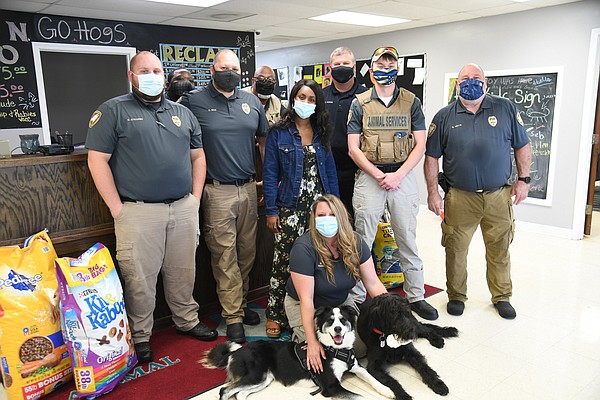 Hot Springs Animal Services is asking for donations to help animals and pet owners affected by Hurricane Ida.
Animal Services collect blankets, towels, dog food, cat food, both hard and soft, cat litter and treats.
"I really want to help the citizens of Louisiana. They have lost their entire lives. Their pets are all they have left. I can't really help with their belongings, so I thought, why not not help with their pets? " Michelle Stone, animal services coordinator, said.
Stone said she "stood for two hours Monday night thinking 'What can we do? "I came to see our manager on Tuesday and he said, 'Let's do it.'"
Many animals end up being moved and taken to animal shelters, Stone said.
Video not playing? Click here https://www.youtube.com/embed/DPNQ5Y20Xlc
"I'm sure a lot of shelters are already full, before helping the citizens of Louisiana. At Animal Services, we have animals (admitted) every day. We have five to 20 a day, and we know this. that it does. Whatever we can do we are happy to do. "
Dr Lesa Staubus, a rescue veterinarian at American Humane in Oklahoma, told Sentinel-Record on Thursday that she had just left Baton Rouge on Wednesday. "We were bringing our 50 foot rescue platform to transport the animals."
Staubus said she took a group of cats, some of which were very young kittens, to Edmund, Oklahoma, from Companion Animal Alliance in Baton Rouge, where the majority of the damage occurred.
"People are rushing to these lower parishes," she said. "They still have no electricity at all. It takes days for the storm to calm down enough and people to start reacting. Everyone is just in panic mode after the storm just to keep their heads out. water. It took days for the plans to start to gel and it starts to happen. There will be temporary shelters put in place, but it is still firming up. It has not yet happened. will be made to keep (pets) as close to the house as possible for the owner to find, but sometimes the lack of infrastructure makes this really difficult to do. "
Donations will be given to each shelter with 100 or more animals displaced by Hurricane Ida.
"I am joining the Humane Society of the United States, and I have joined Best Friends Animal Society," as well as the American Society for the Prevention of Cruelty to Animals, Stone said.
Donations are accepted at the following locations: Hot Springs Police Department, 641 Malvern Ave .; Garland County Sheriff's Office, 525 Ouachita Avenue; All Creatures Animal Hospital, 2350 Higdon Ferry Road; Temperance Hill Animal Hospital, 111 Temperance Hill Road; Your Pets Animal Hospital, 272 Bratton Drive; Airport Road Animal Hospital, 1449 Airport Road; Hamilton Lake Veterinary Hospital, 1525 Airport Road; Hot Springs Animal Hospital, 1533 Malvern Ave .; Kelly Veterinary Clinic, 1910 Albert Pike Road; Garland County Humane Society, 1249 Ault Loop, Lonsdale; Hot Springs Village Animal Welfare League, 195 Cloaco Lane, Hot Springs Village; or Countryside Animal Hospital, 3620 Central Ave.