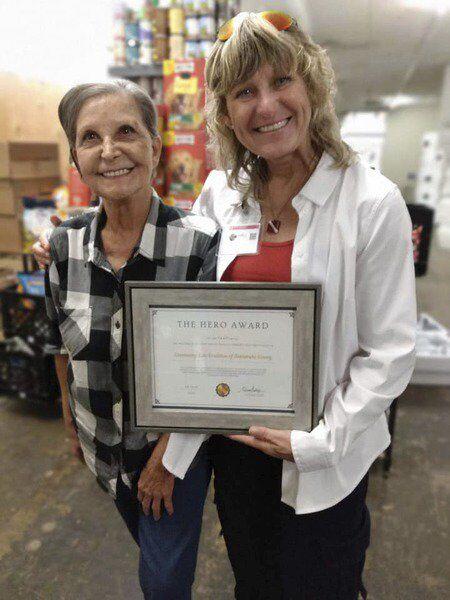 ASHTABULA – The Ashtabula County Community Cats Coalition received the Hero Award from the Willowick Pet Food Pantry on Saturday.
So far this year, the group, which operates entirely through volunteers, has transported 446 cats from Ashtabula County to be spayed or neutered, bringing the total to 956 local cats spayed or neutered in the past two years.
"CCACC is the proud recipient of the first ever Willowick Pet Food Pantry Heroes Award for our work last year repairing 510 cats and for our continued work in Cat Trapping, Spaying and Freeing (TNR)," said Dr Irene Fiala, a coalition organizer. "We not only received a beautiful certificate in a beautiful setting, but the Willowick Pet Food Pantry paid $ 100 on our behalf to TNR of Warren, where we just had 46 cats looked after last weekend."
CCAC volunteers not only trap the cats, but provide pre and postoperative care, transport the cats to the various clinics, and then return them to where they were trapped. TNR cats are vaccinated against rabies and given an "eartip," which is the universal sign that the cat has been repaired, Fiala said.
Fiala thanked all the volunteers and donors in the group and especially thanked Elvira Bellegoni of the Willowick Pet Food Pantry.
Ashtabula City Council Chairman John Roskovics said he was happy CCCAC was recognized for its good work.
"What they have done is incredible," he said. "They saw a problem and dealt with it with so much energy and commitment. I am impressed with their efforts and achievements.
CCCAC is not officially affiliated with any other organization, agency or group.
"CCCAC is a group of people who want to make a difference and 100 percent of its activities are carried out by volunteers and 100 percent of our ability to provide community service relies on donations," said Fiala.
In addition to the 510 cats from last year, the CCCAC carried out a large-scale trap, sterilized and released 62 cats in Conneaut. Another nonprofit cat rescue, Maddox and Friends, helped transport the cats to Hermitage, Pa., Where CCCAC had 50 of these cats neutered by Tails of Hope.
"We have a permanent six-cat rendezvous every Tuesday at the Rescue Village in Geauga County," said Fiala. "And we have a permanent appointment for 10 cats every second Monday at AlterClinic in Canton."
Last week, the group took a total of 32 cats to Warren's TNR in Trumbull County.
"We're doing 20 more TNR cats on Oct. 15 in Hermitage, PA," she said. "We have to travel a great distance – an hour to 90 minutes one way – to get the cats treated, which really shows the need for a physical sterilization / sterilization clinic in Ashtabula County."
Anyone wishing to donate can contact TNR of Warren or AlterClinic and deposit money into the CCCAC account. People can also join the group on Facebook or by email at [email protected]