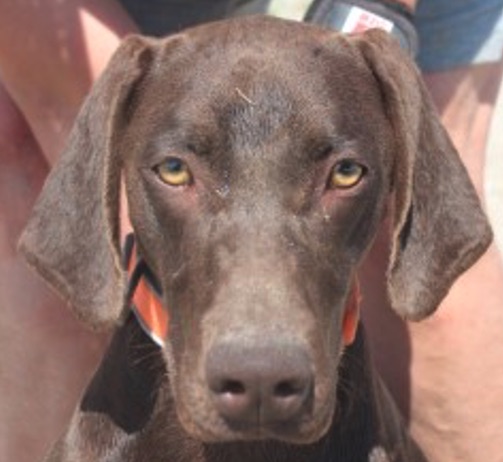 Benelli is an adorable one year old chocolate Labrador and Remington is a handsome 10 month old German shorthair pointer. These girls came to CAPS because their person could no longer take care of them. They are looking for a house where they can stay together. The two girls are friendly, adorable and love to chase balls. In fact, they were the stars of the Cantaloupe Festival. Come meet this dynamic duo; they will charm you.

Watson here, and I want to remind everyone to come to our fabulous garage sale next week from 10 a.m. to 3 p.m. on Friday, September 17 and from 9 a.m. to 2 p.m. on Saturday, September 18. We'll be Cool Air-conditioned Oasis Church located at 1520 S. Maine St. Be sure to check out our great offers.
We have wonderful treasures including antiques, furniture and so many items that there is not enough room to list them all. This is your chance to find something delicious at a great price. If we don't have it, you don't need it! Hope to see you there!
The past two years have been difficult for our shelter. The fundraisers we rely on to keep the facility running smoothly have not been able to happen due to COVID. Unfortunately, repairs and customer care continued despite COVID. We survived because of the community and the generous people of Fallon.
If you have visited the CAPS booth at the Cantaloupe Festival, you have undoubtedly seen the jug of cloudy, brown and muddy water that we receive from the CAPS well. We desperately need to get our water situation under control.
At this point, CAPS volunteers and workers bring water in gallon cans to service our guests. We use a hose to facilitate the washing machine because the water in our well is so muddy that we cannot use the system.
Can you help us? If you have experience with wells, water systems and filtration, we can use your advice and expertise. Don't hesitate to call us at 775-423-7500.
On a positive note, we are planning some of our activities like the annual CAPS Garage Sale and Mysterious Murder Theater, and you'll hear about it from me.
XOXO Watson

LOOKING FOR A HOME
We have kittens to raise! Call 775-423-7500 for details.
However, the policy prohibits adopting puppies or kittens under six months of age into a household with children under five. This is to protect both children and animals.

REQUIRES
Financial and technical support for our failing water supply system.
Garage sale items. We need appliances, furniture, conveyor belts and lightly worn sundries. We don't need clothes. Call 775-423-7500 for pickup. Call quickly!
We are looking for energetic, enthusiastic and community minded individuals to serve on the CAPS Board of Directors. We meet once a month. Call 775-423-7500 for details.
Dry food for cats and wet Friskies. Pedigree dry dog ​​food and wet food.
Aluminum cans. If you have any cans to pick up, give us a call (775-423-7500) and we'll come pick them up. You can also deposit them at CAPS.
CALL TO
The people who donated to the Cantaloupe Festival for our water system. A four-legged salute to you!

COME SEE US
Look for the CAPS float in the Labor Day Parade.
CAPS is now open, we suggest appointments for adoptions, SNAPS and the pantry. We cannot accept volunteers until further notice. Call 775-423-7500.
DO NOT FORGET
Pet Vacations in September: National Pet Insurance Month
The CAPS garage sale at the Oasis church will take place from 10 a.m. to 3 p.m. on Friday, September 17 and Saturday, September 18 from 9 a.m. to 2 p.m.
We need new kennel floors. Our GoFundMe link can be found on the CAPS Facebook page.

CONTACT CAPS
CAPS mailing address is PO Box 5128, Fallon, NV 89407. CAPS telephone number is 775-423-7500. CAPS email address is [email protected] Please visit the CAPS website (www.capsnevada.com) and the Facebook page (Churchill Animal Protection Society). Make sure you "Like" CAPS on Facebook because we're likeable.
CAPS is open to the public Tuesday, Wednesday, Friday and Saturday from 10 a.m. to 2 p.m.
Kathleen Williams-Miller is a CAPS volunteer. Contact me at [email protected]