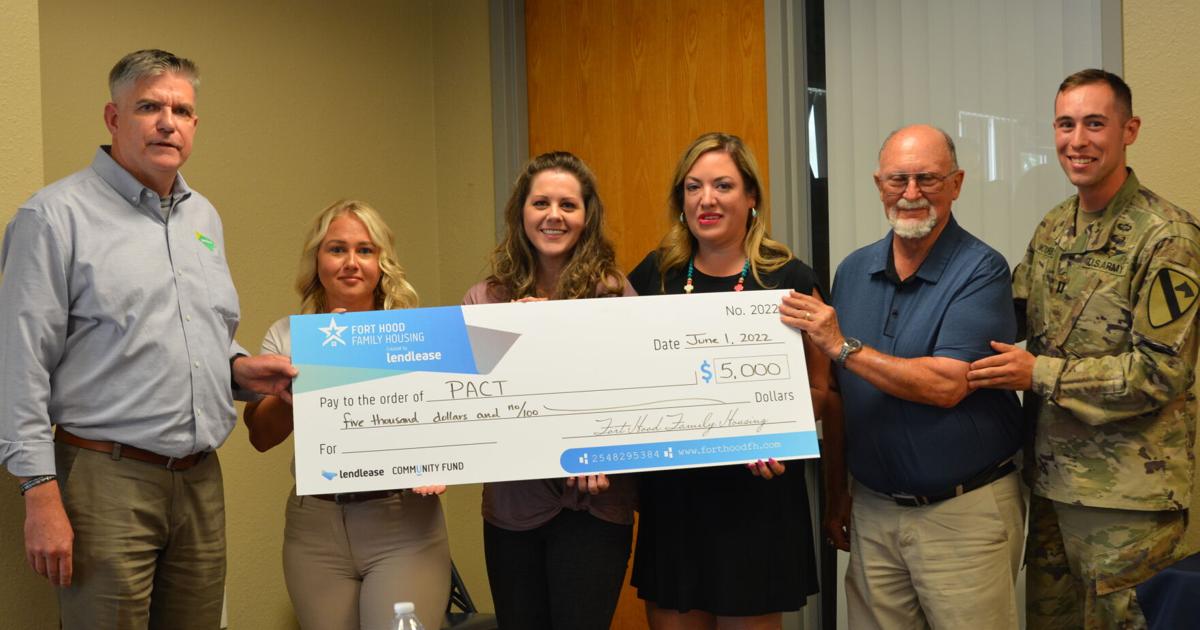 Residents of Fort Hood Family Housing now have a resource for their furry family members during deployments.
The FHFH has partnered with PACT for Animals, a foster program for military family pets, so members of the community who need a foster family for their pet or want to volunteer to foster a pet can do so.
To kick off the partnership, Lendlease (US) Community Fund donated $5,000 to the PACT for Animal program on June 1.
"PACT is thrilled to provide safe, loving, long-term foster care for the pets of our military families that goes above and beyond their service to our country," said Betsy Kilkenny, Executive Director of PACT. . "PACT is the only national non-profit organization that manages the entire pet placement process every step of the way – from the first desperate call we receive for foster care support until every pet is safely reunited with its owner months or years later."
Pet owners are not charged for PACT's services, so the $5,000 will help them achieve their goal of providing peace of mind to military pet owners while deployed.
"We are grateful to be partnering with Lendlease's military housing community, Fort Hood Family Housing. Not only will their partnership help PACT increase awareness of the need for a pet foster family within the military and the support services we offer, but their funding will also allow us to expand our messaging, to train volunteers at Fort Hood in establishing a PACT Satellite Office, offer emergency pet transportation assistance if needed, and identify more foster families nationwide to support our service members" , she said. "Finally, through this partnership at Fort Hood, PACT welcomes the opportunity to begin working with other military bases across the country in similar public partnerships."
Chris Albus, Project Director for FHFH, is excited about this partnership and providing FHFH families with greater access to PACT if they want to volunteer or need their pet.
"As an organization of veterans and heavy-duty joint employees, we understand the stresses that come with military life, from constant moves to absences due to deployments and training, knowing that there are options to alleviate the stress of transitioning your pet family members during these times can bring relief knowing that someone is caring for their four-legged family members," he said. "While finalizing plans for rolling out PACT in partnership with FHFH is still underway, we kicked off the partnership by donating $5,000 on behalf of our nonprofit Lendlease (US) Community Fund, to support PACT."
This initiative was presented by the Resident Advisory Council and Tami Burkett, Vice President of the organization. They are very happy with the partnership with PACT for Animals.
"I am grateful to an organization like PACT for Animals that is committed and dedicated to helping our military men and women find a safe place for their animals while they perform their duties," Burkett said. "My goal is to help raise awareness of this very real and difficult situation, no one wants to leave their animals in a shelter or with an unsupervised foster family. PACT for Animals fills a need, bringing together people who wish to be welcomed with people who need it.
For more information, or for those interested in fostering, volunteering, or donating to PACT for Animals, visit the pactforanimals.org website.