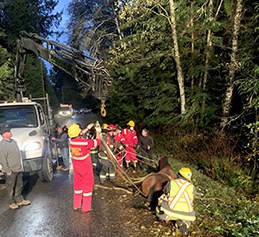 Roberts Creek November 10 rescue required makeshift crane and harness
After the ground gave way beneath him, a horse named Nemo needed the help of volunteer firefighters and a crane to free him from a sinkhole on Day Road.
On November 10, Sarah Marshall and Emily Jaschinski were hiking in Roberts Creek when the 10-year-old thoroughbred's right rear leg got stuck in a chasm three feet wide and eight feet deep. Marshall, who was riding Nemo at the time, fell but was not injured.
It took an hour and a half to free the stressed horse, Jackie Cross, whose daughter Kerri owns Nemo, told Coast Reporter, as the animal had to be lifted straight so as not to break his leg. Such an injury is usually fatal for horses, she said. While they waited, no one knew if Nemo was hurt.
Weighing around 1,300 pounds, Nemo needed extra help getting out.
When the Roberts Creek Volunteer Fire Department received the call for dispatch, Roberts Creek Fire Chief Patrick Higgins made sure that a member of the local equestrian community would also be on site to provide advices.
"[It's] obviously not something firefighters are typically trained for, "Higgins said.
For the Roberts Creek volunteers, this was the second incident involving a horse this year, and the only two Higgins was involved in during his time in the service. Upon arriving at Day Road, he was concerned not only for the safety of the horse, but also for the safety of the volunteers around the frightened animal.
They kept their distance and managed to pass the strap of a makeshift harness under the horse.
Randy Benner, a member of the Sechelt Volunteer Fire Department, brought a borrowed crane from Rona and the volunteers helped pull the horse out of the hole. Once out, Nemo returned home "as if nothing had happened" and it appears that he is doing perfectly well since the incident.
Rescues like this are very rare, Cross said, and his family were grateful for the help.
"We live in a community where we don't have access to a large animal vet without getting on the ferry, so when something is wrong with these animals it is heartwarming to see everyone coming together. to help, "Cross said.