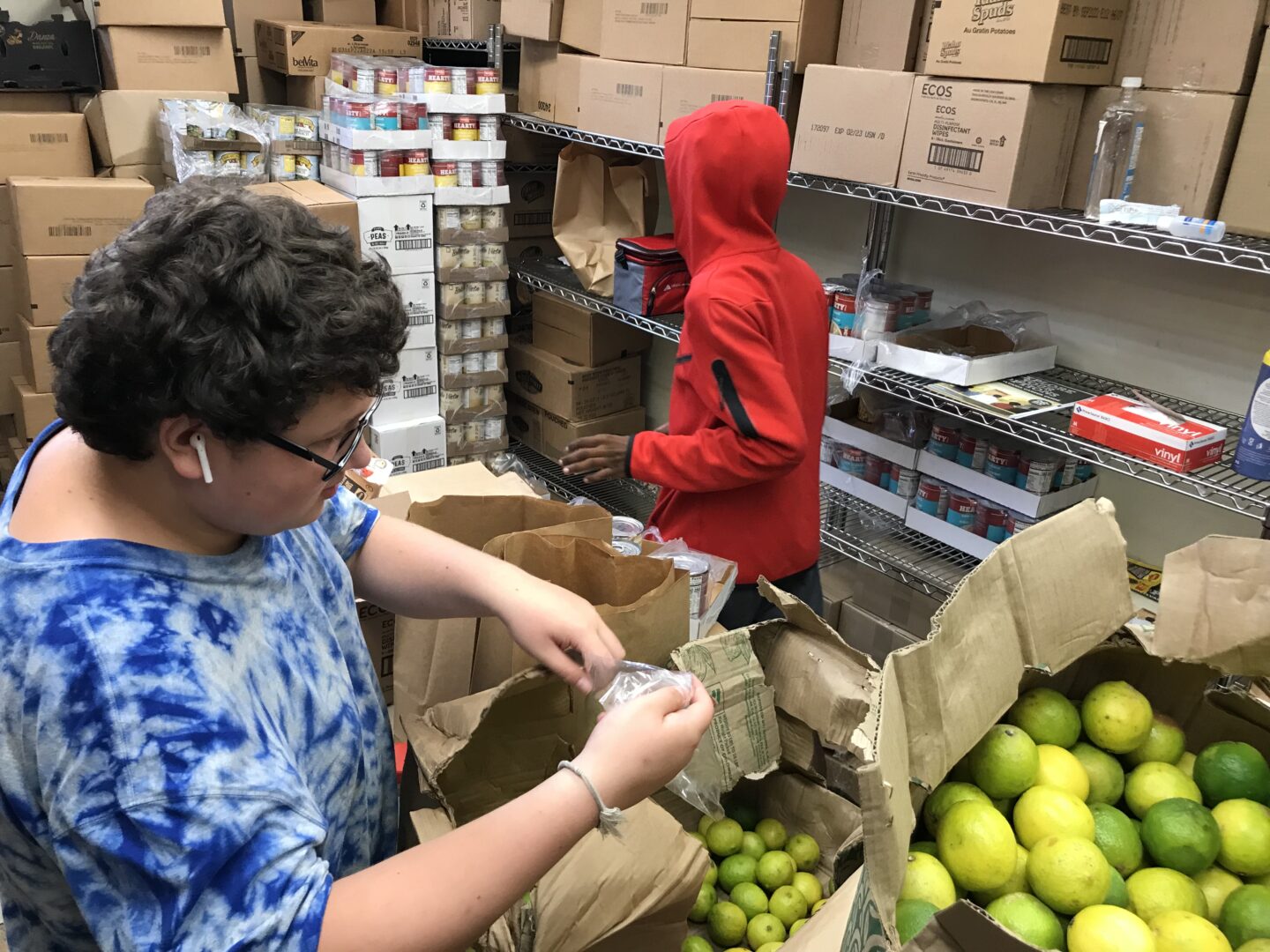 Jeffrey Ginsberg doesn't know who will serve his customers with their much-needed groceries in a week.
Ginsberg, a case manager with United Neighborhood Centers in Scranton, said there were days when the nonprofit's pantry functioned almost entirely with staffers like him.
"There were times when I would come back there [in the kitchen] wishing I could turn into an octopus," Ginsberg said. "You know, grabbing so many things at once."
United Neighborhood Centers is a non-profit organization aimed at meeting a variety of community needs. Each weekday, UNC provides financial assistance to people struggling with utility bills, helps establish access to affordable housing, and offers clothing and goods through its "Angel's Attic" program. ".
All this, in addition to managing their pantry, where people can enter for free for full grocery bags. Ginsberg said it was a big undertaking, requiring a lot of help from volunteers.
However, for several years, the number of volunteers has decreased.
Jessica Wallo, director of community services for the organization, said she tries not to dwell on the negatives.
"That's kind of our mindset with UNC," she said. "When working with those in crisis, we always try to look at the good. That being said, we absolutely need volunteers.
Statistically speaking, UNC is not alone.
The volunteer rate went from 26.5% to 25.1%. from 2008 to 2018, according to a study by research firm Statista.
A study 2018 from the School of Public Policy at the University of Maryland found that a similar drop in volunteering from 2004 to 2015 had big implications. If the volunteer rate had remained constant since 2004, an additional 9.8 million Americans would have volunteered by 2015.
In a survey conducted by the Charities Aid Foundation Center in 2020, the group found that almost a third of nonprofits nationwide did not know if they could continue operating for the next twelve months.
And while some organizations were forced to make the difficult decision to shut down operations, others, including UNC, saw an increase in aid early in the pandemic.
"When people were getting government aid checks, we were able to maintain a relatively steady flow of volunteers during that time," Ginsberg said.
Blue Chip Farm Animal Refuge in Dallas is another regional nonprofit that saw renewed interest during the early days of the COVID-19 pandemic.
"At first everyone thought it was a really fun idea to volunteer and adopt," said Emma Ripka, a full-time employee at the animal sanctuary.
While a myriad of pandemic pets have found forever homes, Blue Chip said they haven't been so lucky since the pandemic lockdown began.
"Now that everything has sort of calmed down, we don't have any more volunteers," Ripka said.
Ripka said the majority of Blue Chip volunteers are those seeking community service hours. Once these hours are recorded, many do not return.
"It's hard to have someone come and stay," she says. "They will come many times, and that's always helpful, but it's hard to find the people who really stay."
United Neighborhood Centers is grateful to have a handful of enduring volunteers.
Donovan Ramirez, program coordinator at UNC, said he has come to rely on several volunteers who have been with the organization for more than thirty years. He said these people are invaluable to day-to-day operations, as are teenagers attending a UNC-run summer youth program.
"But once the summer is over," Ramirez said, "we're definitely going to struggle."
Officials from both organizations said they had become accustomed to the uncertainty of finding volunteers. But the reason for this fluctuation seems to be up for debate.
"It's very similar to the labor shortage," Ripka suggested. "It just trickles down to volunteering. If people don't really want to work, they really don't want to work for free.
Cynthia Defebo, director of workforce development for Pike County in Shohola, sees things a little differently.
"We've been really busy lately," she said. "The activity of job seekers has really picked up over the past few months."
Defebo attends job fairs in his area and visits schools looking for new recruits to join the job market. But she also pointed to a so-called "silver tsunami," a trend that has seen members of the baby boomer generation choose retirement around the pandemic.
Defebo thinks this statistical shift in personnel nationwide is what could be contributing to a continued shortage of workers. But it could well be a solution for organizations run by volunteers.
"These nonprofits shouldn't be looking at young people," argues Defebo. "Wages have increased, encouraging the younger generations to [get serious] on the workforce. I think if you are looking for a volunteer, look to the older generation.
Back at UNC, several volunteers are retired. Jeff Ginsberg is grateful to them.
"We see how hard they work, whether it's hauling up cases of water from the basement or filling bags with food," he said. "It's all work. They are really hard workers.
Ginsberg added that volunteering has many benefits.
"You feel like you're contributing, giving yourself to your community, a sense of self-awareness, developing skills of empathy and compassion for others while meeting a very diverse group of people, which is always good. ."
For more information about volunteering for United Neighborhood Centers in Scranton, call (570) 346-0759.
To volunteer with Blue Chip Farm Animal Refuge, call (570) 333-5265.