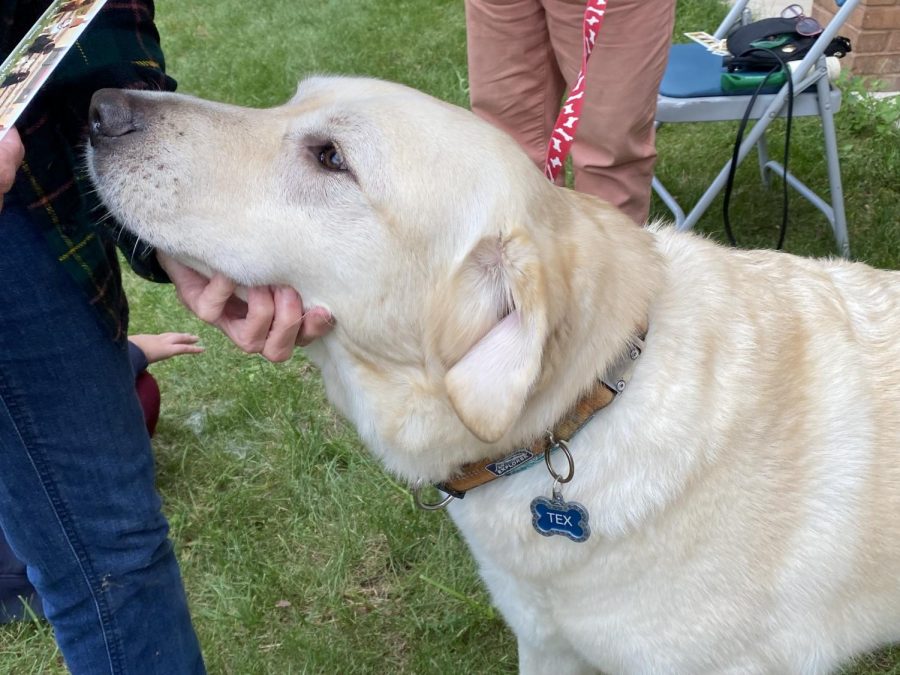 Once again, Bucks Accessibility Office and Nor'Wester Therapy Dogs: Canine Partners in Education have collaborated to bring comfort dogs to campus.
Comfort dogs, also known as therapy dogs, are specially trained and certified to provide comfort and affection according to Deborah Glessner, co-founder of Nor'Wester Dogs. They can "increase beneficial healing hormones such as endorphins and oxytocin" while decreasing anxiety.
They come twice per semester during the midterm and final exam weeks, providing students and staff with "stress relief and emotional support," says Jennifer Osinski, director of the Office of the accessibility, M.Ed., MS.
In addition, the organization also participates with the community in events that support the group's mission. The group also contributes to Crisis Intervention, where teams of therapy dogs work with other groups to support families and students going through community-wide tragedy.
Katharine Benziger, Clinical Coordinator of the Department of Health Sciences, strongly believes in the ability of dogs to enhance learning, promote socialization and joy and has seen this happen in elementary and secondary schools, colleges, nursing homes and hospitals.
A review of the evidence from 60 previous studies in Frontiers in Psychology found that human-animal interaction (HAI) showed "- improved social attention, behavior, interpersonal interactions and mood, reduced stress-related parameters such as cortisol, heart rate, and blood pressure, reduction of self-reported fear and anxiety, and improvement of mental and physical health, in particular cardiovascular health: "
Wendi Huttner, Labrador Retriever breeder and Deborah Glessner, retired Council Rock librarian and District Library Media Coordinator, created Nor'Wester Readers in 2007. In 2016, they changed their organization's name to Purpose nonprofit in Nor'wester Therapy Dogs: Canine Partners in Education "because our program has become unique as an academic learning program.
Their therapy dogs improved learning and decreased stress in all kinds of learning environments and Huttner, a former Bucks, wanted to share the joy with the Bucks. It took her about three years but with the help of Deborah Hoelper, deputy director of the accessibility office, she was finally successful in 2018.
Benziger decided to volunteer and has been bringing her own Labrador Kona since 2020 after she and Kona completed training and two levels of certification.
Due to COVID, there are only about 20 volunteer teams.
"We are looking for volunteers," says Wendi Huttner. "It has nothing to do with the type of dog. We have fox terriers and collies. The volunteer process is at this link: https://norwestertherapydogs.org/get-involved/volunteer/
"Stroking an animal is a moment of well-being. We are happy to do this for the campus, "says Jennifer Osinski. "We are happy that everyone is back, students and staff, and to give back through this program. "
The dogs were at Bucks Newtown Campus halfway through and they'll be back for the finals.
Comfort dogs will be on campus Tuesday November 30, Thursday December 2, Monday December 6, Wednesday December 8, from 11 p.m. to 1 p.m. at the Rollins Center Solarium.