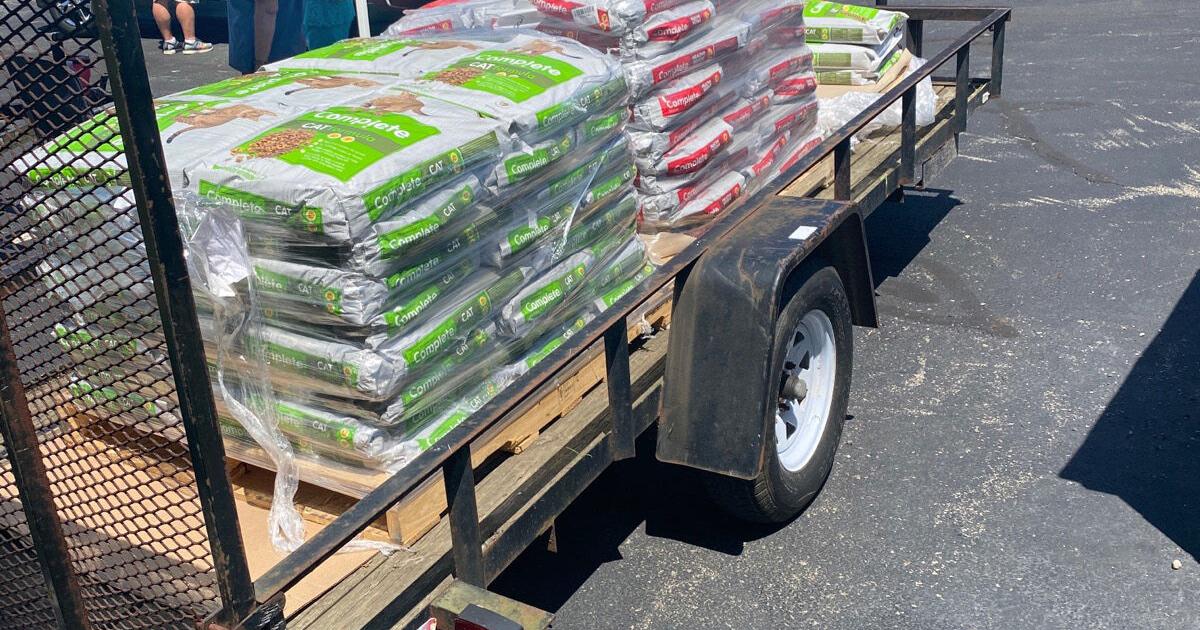 SHARON – Two events this month on the same date – a pet food giveaway and "Paws for a Cause" – will help support community pet owners and animal rescues.
The first event will be a cat and dog food giveaway, hosted by the Animal Protection League of Western Pennsylvania. It will be from 9:30 a.m. to 11:30 a.m. SaturdayJuly 16, at Case Avenue Elementary School, 36 Case Ave., Sharon.
The gift is made possible by a grant from the Glenn and Jean Harnett Private Charitable Foundation, PLA President Stacey Squatrito said.
The giveaway will provide 160 bags of cat food and at least 50 bags of dog food. Cat food was provided at a reduced price by Hermitage Agway, while Tractor Supply provided dog food. Tractor Supply will also donate dog food, Squatrito said.
This is the third annual pet food contest the PLA has held since 2020, when it began helping pet owners in need during the COVID-19 pandemic.
Although pandemic conditions have finally improved, Squatrito said there is a continued need as pet owners battle inflation and supply shortages.
"Agway couldn't provide us with enough dog food because the warehouses were empty," Squatrito said.
Sharon High School's cross-country ski team will provide volunteers to help load people's vehicles. No registration is necessary and vehicles will receive one or two bags of food depending on the line of vehicles that day.
Apart from the pet food gift, the APL also needs foster homes and has 11 kittens ready for adoption, Squatrito said.
More information about the APL can be found at aplofwesternpa.org or facebook.com/APLofWesternPA.
The other event, also on Saturday, July 16is the "Paws For A Cause" fundraising and adoption event, from 11 a.m. to 4 p.m. at Greenwood Hubbard Chevrolet, 2635 N. Main St., Hubbard.
Heather Mahaven, a dealership employee and pet owner herself, said this will be the third such event she has organized since the first "Paws For A Cause" in 2020.
"Most things were closed during COVID, and I came up with the idea because I'm very passionate about animals and wanted to do something," Mahaven said.
Attendance at the initial event was "a bit lackluster" due to concerns over the ongoing COVID-19 pandemic, but last year's event saw much better attendance from the public.
This year will feature four animal rescues, multiple vendors, a basket raffle and a 50/50 raffle, as well as All Paws Matter and the APL. Vendors range from Prairie Voice Creations, which makes Native American beads from First Nations sources, to Miranda's Metaphysical Creations, which creates jewelry.
In addition to financially supporting the various animal rescues, the event will also give visitors a chance to meet potential pets, as some of the rescues will make their animals eligible for adoption.
Although adoptions will not take place at the event due to the necessary checks and paperwork, Greenwood Hubbard Chevrolet will cover the costs of any adoptions resulting from the event, Mahaven said.
Mahaven said she would still accept vendors and animal rescues, or auction items until next Thursday. Participants must provide a $10 donation and basket donation.
Interested persons may contact Mahaven at Greenwood Hubbard Chevrolet from 9 a.m. to 5 p.m. Monday through Friday at 330-534-1961 ext. 2613.
The APL will be among the animal rescues represented and its 11 kittens will also be available to visitors, Squatrito said.
Like David L. Dye on Facebook or email him at .